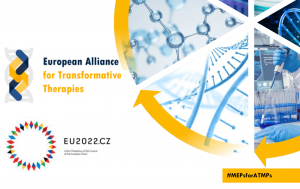 This conference entitled "Launch of Charter for EU Cooperation to Enable Safe and Timely Patient Access to Advanced Therapies in Europe" has been organized by the TRANSFORM MEP Interest Group of the European Alliance for Transformative Therapies.  
The in-person event was held on October 13th at the European Parliament, Room Spinelli, in Brussels.  
The event launched a Members of the European Parliament (MEP) Charter that brings together TRANSFORM's work and learnings over the past years, at the same time it will set out 7 Recommendations for change to enable safe and timely access to Advanced Therapy Medicinal Products (ATMPs) for patients in Europe, looking at the full lifecycle of these therapies, with the patients and their needs at the centre.   
Dr Donato Bonifazi, CEO at Consorzio per Valutazioni Biologiche e Farmacologiche (CVBF) and Coordinator of the European Paediatric Translational Research Infrastructure (EPTRI), participated in the panel session "New approaches to foster safe and timely patient access to ATMPs in Europe: Realising agreed EU-level actions and building on national learnings" stressing the paediatric perspective.  
Donato took actively part to the discussion and suggested some key approaches for the future: Europe placing health and life science research as the third European pillar together with digital innovation and green revolution in its global research strategy; the EU taking the leadership among the involved stakeholders in the development of drugs for highly unmet therapeutic needs, Separate the cost of drug development R&D from the products marketing to open access to innovative ATMP, as R&D is a common universal goal, while marketing the drugs is more related to industrial models; prioritizing unmet medical needs solutions by boosting paediatric research which is key to discovering new therapies for the thousands of unmet needs which affect primarily children.  
More information about the conference is available here.  Watch the conference recording below.