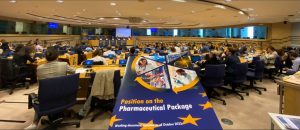 The MEP Interest Group 2023 Conference "COUNTDOWN TO EU ELECTIONS: How can policymakers secure the promise of Advanced Therapies for patients over the next 6 months?", organised by the European Alliance for Transformative Therapies (TRANSFORM) was held last October 12, 2023, at the European Parliament in Brussels.  
The conference aimed to explore how policymakers can ensure innovative therapies are a cornerstone of EU healthcare for the future.  
Dr. Giovanni Migliaccio, our board member, participated in panel entitled: 'Is forthcoming EU policy fit for ATMPs? The case for why cell and gene therapies are unique' and talked about ATMPs from the perspective of researchers.  
Dr. Migliaccio pointed out the role of academia in the new discoveries made in the field of ATMPs and the importance of including evidence provided by academia in the regulatory process. He also mentioned the need to reconcile the interests of academia and pharma companies to make sure that new and better products are developed. He finally stressed the importance of flexibility in the legislation to give regulatory agencies the time to incorporate new ideas and new approaches while making sure that new medicines are safe to the patient population.  
The panel also included the participation of Eleni Antoniou from Thalassaemia International Federation, Claire Booth from the European Society of Gene and Cell Therapies, and Anne Kerber from Bristol Myers Squibb.  
More information about the conference is available here.