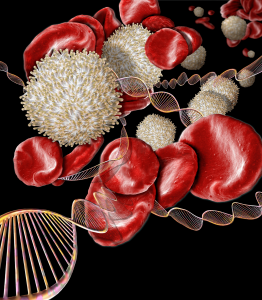 The European Medicines Agency (EMA) has recommended granting a conditional marketing authorisation in the European Union (EU) for Roctavian (valoctocogene roxaparvovec) for the treatment of severe haemophilia A in adults who do not have factor VIII inhibitors and no antibodies to adeno-associated virus serotype 5 (AAV5). 
Roctavian is the first gene therapy to treat haemophilia A, a rare debilitating disease affecting approximately 0.7 in 10,000 people in the EU. It is life long and may be life threatening when bleeding occurs in the brain, the spinal cord or the gut.  
Medicines currently authorised for treating haemophilia A require one or more injections per week or per month and are lifelong. Therefore, there is an unmet medical need for new therapeutic approaches that might free patients from frequent injections.    
The active substance in Roctavian, valoctocogene roxaparvovec, is based on a virus (adeno-associated virus or AAV) which has been modified to not cause disease in humans. The virus contains the gene for factor VIII; once given to a patient as a one-off infusion, it is expected to carry the factor-VIII gene into the liver cells, enabling them to produce the missing factor VIII. This helps the blood to clot more easily and prevents bleeding or reduces bleeding episodes. It is yet unknown how long the treatment effect from this single infusion will last in an individual patient.  
EMA's recommendation is based on the results of a Phase 3 clinical study that showed that the therapy significantly increased factor VIII activity levels in the majority of patients. Bleeding rates were reduced by 85% and most patients (128) no longer needed factor VIII replacement therapy. 
Hepatotoxicity (liver damage), a common side effect due to immune reaction induced by these AAV-based gene therapies has been reported with Roctavian. The condition can be treated successfully with corticosteroids. Other common side effects include headache, joint pain and nausea. 
Patients treated with Roctavian will be monitored for 15 years, to ensure the long-term efficacy and safety of this gene therapy. 
The paediatric investigation plan (PIP) for Roctavian is expected to be completed in 2035, which represents a pitfall for this particular paediatric patient population. As haemophilia A is a paediatric disease, paedaitric patients should not wait as long to access to this innovative therapy.  
This EMA's recommendation represents a step further in the patients' access to this innovative therapy and the improvement of these patients' quality of life. 
You can find more information about this topic here.