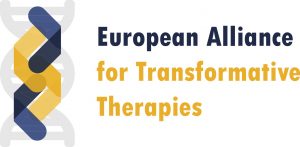 This meeting organized by the European Alliance for Transformative Therapies (TRANSFORM) MEP Interest Group, from which EPTRI is a member. It will be held online on Thursday, March 31st, 2022 from 15:00 to 17:00 (CET).  
Advanced Therapy Medicinal Products (ATMPs) represent an opportunity of a lifelong cure and a highly positive impact on the quality of life for inherited disorders which in about 2%-5% of all live births and account for up to 30% of paediatric hospital admissions.  
The collaboration between the Alliance and EPTRI strengthened the paediatric point of view contributing to the Position Paper that will be released in the next weeks. 
Further details, including the agenda will be divulged latter on.  
This meeting will bring together policy-makers (MEPs, representatives of EU institutions, national representatives), regulators (EMA), patient representatives, medical experts, scientists, researchers, industry representatives and academics to discuss recommended changes in policy and practice, and to offer solutions to unlock patients' access to (ATMPs) in Europe. 
In the meanwhile, registration is open, please go here: https://us02web.zoom.us/webinar/register/WN_EluPkl3LSZmeaDKg0H3egw