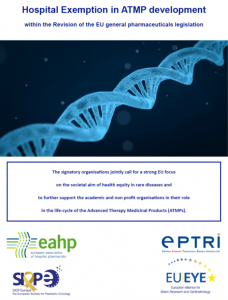 Within the Revision of the EU general pharmaceuticals legislation, we call for the European Commission to maintain a strong focus on the societal aim of health equity and to further support our researchers, clinicians, and hospital pharmacists in their various roles in the ATMP life cycle.
We believe that the introduction of measures for data collection, reporting and regular reviewing will improve transparency whereas the increased responsibility of Member States regarding GMP compliance, traceability, pharmacovigilance and notification of revoked authorisations will ensure harmonisation of HE practices and safety for patients.
More information here.
Support our position paper by contacting [email protected].