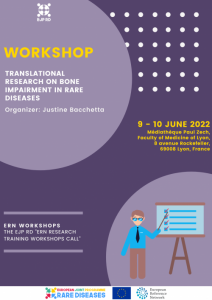 In the context of EJP RD's ERN Workshops, the "Translational research on bone impairment in rare diseases" workshop aimed at sharing updates on this important topic by bringing together experts and trainees to facilitate collaborations. It is being organized by Justine Bacchetta of the Faculty of Medicine of Lyon, France. 
The in-person event will take place on June 9th – 10th at the Faculty of Medicine of Lyon. 
The workshop is open by prior registration and selection to senior scientists, senior physicians, postdocs, medical fellows, and PhD students who are employees of or affiliated to an ERN Full Member or affiliated Partner institution.  
It is free of charge and consists of interactive presentations, discussions on different areas of interest, and a "meet the experts" session that will encourage small group talks, exchanges, and networking. 
Registration closes on March 27th and the applicants selected will be informed by April 4th. 
More information and registration can be found here.