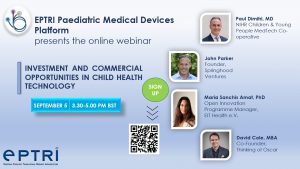 Our first webinar "Investment and commercial opportunities in child health technology" chaired by Paul Dimitri, was held on September 5th. This webinar, organized by our Paediatric Medical Device Research Platform, is part of a one year online educational programme based around specific topics relating to child health technologies such as regulation, compliance, commercialisation and funding. 
Our first speaker was David Cole who talked about the innovation landscape across children's hospitals, highlighting challenges and opportunities. David is the co-founder of the children's charity, Thinking of Oscar, which funds technology and innovation within paediatrics, whose mission is 'to bring the future of healthcare to children'.
Thinking of Oscar was set up in memory of Oscar Cole, who died suddenly in June 2014 aged just 16 months. Thinking of Oscar started off with the aim of supporting children and their families whilst in hospital care by funding projects and innovation over and above that supplied by the NHS.
The second speaker of the webinar was Maria Sanchis Amat who spoke about how both the academic and industry sectors can benefit from the public procurement for innovation.
Maria works at EIT Health as an Open Innovation programme manager. Her work covers the design, development and implementation of state-of-the-art open innovation and business acceleration programmes.
The last speaker was John Parker who provided the audience with practical tips and examples on the journey to get your child health technology research funded.
John is the Founder and Managing Partner of Springhood Ventures (USA), which invests in life science and healthcare companies transforming the health and care of children. 
You can access the webinar recording and the presenter slides here.  
More information about the whole edicational programme is available here.