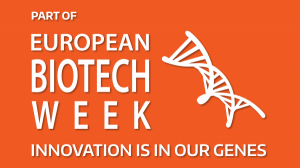 We are pleased to inform you that EPTRI is participating in the IX Edition of the European Biotech Week that will take place from September 27 – October 3, 2021, a week full of events celebrating biotechnology!
The EPTRI's events calendar foresees:
On the 28th of September 2021 (10.00 – 17.30 CEST) the webinar "Research in paediatric diseases: from nanotechnologies to diagnostics and precision medicine" focusing on topics related to paediatric biotechnologies ranging from the role of mitochondria in the neurodevelopmental disease to multi-omics approaches and nanotechnologies applications in diagnostics and therapeutics; from proteomics to precision medicine and drug repurposing in respiratory diseases. It is organised by the Italian National Research Council and EPTRI and is addressed to Italian medical and biomedical sciences students. The webinar will be in Italian.
On the 29th of September 2021 (15.00-16.00 CEST) the webinar "The biotech approach to paediatric medical devices" which will explore the relationship between medical devices and biotechnology in the context of the needs of children and young people, with a case study on the challenge in developing resorbable implants for children and the need from the patients' point of view. It is addressed to experts in paediatric medical devices. The webinar will be in English.
On the 1st of October 2021 (11.00-12.00 CEST) the webinar "Paediatric formulations carrying biotech drugs: special focus on Covid-19 vaccines" focusing on the formulation and ethical aspects of development, administration, and authorisation of paediatric use of pharmaceutical nucleic acids' products with a special focus on the status of development and authorisation of Covid-19 vaccines for paediatric use. The webinar is organised by the Department of Pharmacy – Drugs Science of the University of Bari "Aldo Moro" and Consorzio per Valutazioni Biologiche e Farmacologiche on behalf of EPTRI. It is addressed to experts in paediatric formulations and vaccines. The webinar will be in English.