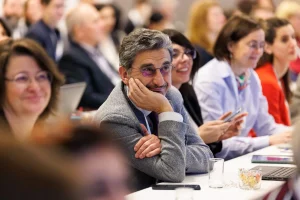 Donato Bonifazi and Lucia Ruggieri, on behalf of EPTRI attended the 11th ACCELERATE Paediatric Oncology Annual Conference held on 9-10 February 2023 in Brussels. 
The Conference touched on different themes of interest for anti-cancer drug development in oncology. Two had a particular relevance for EPTRI: 
– The adoption of the Mechanism of Action (MoA) approach for anticancer drug development that shifts the paradigm from the solely consideration of cancer occurrence in paediatrics towards a development driven by target and pathway analysis on which the drugs act. According to the MoA concept, paediatric evaluation of new molecularly targeted drugs should be performed for all the drugs addressing a molecular target substantially relevant to the growth or progression of a paediatric cancer. Following the example of the U.S., this approach will be ratified at regulatory level in EU, with the forthcoming joint review of the orphan and paediatric regulations. 
– The focus on preclinical prioritisation, intended as an agreement on relevant preclinical testing requirements for the development of innovative therapies for children and adolescents with cancer. On this topic, ITCC-P4 (Paediatric Preclinical Proof Of Concept Platform) work has been presented, spanning from the in vitro drug development to relevance of preclinical animal models.