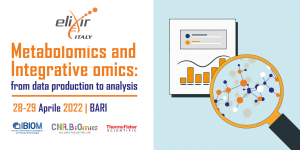 The course has been organized in collaboration with EPTRI and will be held in presence on April 28th-29th 2022 at the CNR Research Area of Bari, Italy. 
The workshop is designed to enable the attendees to apply metabolomics in a research-based context . Experimental design and data analysis of different data sources integrated at the level of the metabolome will be focused topics. Attendees will engage into the design of a mass spectrometry-based metabolomics experiment with cutting-edge equipment and will gain an overview on the use of specific software platforms for metabolomics data mining. Special attention will be paid to the integration of metabolomics data with metagenomics, gene expression and proteomic data. 
Research scientists who are using or planning to use metabolomics analysis in their research activities are welcome to attend the workshop.
Participants are invited to present a use case by submitting an abstract (max 150 words) containing a short description of their research topic and the metabolomics issue/approach they wish to discuss with the speakers.  
The Organizing Committee will select ten abstracts for a flash presentation and discussion during the roundtable on Friday, on 29th April 2022 afternoon. 
Deadline for applications AND for the presentation of use cases: March 27th 2022 
FEE. Academic: 90 EUR. PhD students: 70 EUR. Undergraduate students: 60 EUR. Industry:120 EUR 
VENUE. Via Amendola 122, O70126 Bari, Italy 
This workshop is limited to 50 in-person participants on a first-come-first-serve basis.
Registration and full details at: https://elixir-iib-training.github.io/website/2022/04/28/metabolomics-and-integrative-omics-Bari.html
Contact the ELIXIR-IT Training Platform if you have any questions:  [email protected]