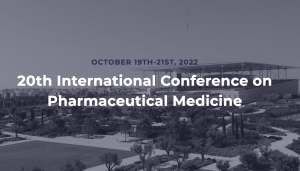 The 20th International Conference on Pharmaceutical Medicine – ICPM, an event on biomedical science, pharmaceutical research and technology under the theme "What lies ahead in Pharmaceutical Medicine" will be held next week, on October 19th until the 21st, in Athens as an in-person and online event. 
The Conference will be organized by the Greek Society of Pharmaceutical Medicine (ELEFI) and the International Federation of Pharmaceutical Physicians and Pharmaceutical Medicine (IFAPP).  
Dr. Donato Bonifazi, EPTRI coordinator, will be participating at the round table: "PAEDIATRIC MEDICINAL PRODUCTS – STILL A MATTER OF DISCUSSION" to talk about "The experience of the European Paediatric Translational Research Infrastructure (EPTRI)" on the development of safer and better therapies for the paediatric population.  
More information about the event and the agenda is available here.