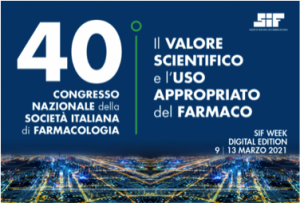 Last December 17th, EPTRI, the European Paediatric Translational Research Infrastructure, has sent an abstract entitled "EPTRI, a paediatric-dedicated research infrastructure to promote the availability of safer and efficacious drug for children" to the 40° Congress Italian Society of Pharmacology (SIF) that has been successfully accepted as oral communication.
The main goal of this abstract is to present the EPTRI as a new infrastructure proposed to accelerate and expand the paediatric drug discovery and development processes by focusing on basic and preclinical research methods.
Today, in fact, the majority of the drugs used for children and young patients have not been specifically developed and tested for them. Children and young patients cannot be compared to adults in their growth path and have a different metabolism. For this reason, a dedicated research infrastructure that can solve this gap is strategic, favoring pediatric research starting from the early stages of drug development up to paediatric formulations.
EPTRI as a new establishing permanent, reliable European wide infrastructure will ensure the provision of safe and efficacious medicines to European patients and will implement in the paediatric field innovative methods and technologies which have not been already included in the routine process to develop new drugs and other health products.